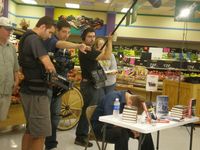 REMAINDERED made today's Evansville Courier-Press. Out of all of my credits, why does the Evansville press keep rubbing my nose in BAYWATCH? 🙂
'Quiet on the set!': Part of short film shot at local Sureway store
By Donna Stinnett
Sureway customers picking up their groceries this past Sunday at the Watson Lane location may have been a bit surprised to find a movie crew shooting in the store while they shopped.
The scenes were for a short film called "Remaindered" by writer and director Lee Goldberg, who has written for the television shows "Monk" and "Baywatch" and who was an executive producer for "Diagnosis Murder."
Goldberg has had an association with the International Mystery Writer's Festival in Owensboro. "Remaindered" is being sponsored by The RiverPark Performing Arts Center, Kentucky Wesleyan College, Brescia College and Owensboro Technical College.
This current film, which was largely created through the production and acting assistance of local volunteers, will premiere Oct. 16 at the World Mystery Convention called Bouchercon being held this year in San Francisco.
Lewis Chaney, who premiered his own locally made feature-length film, "victimEYES," last fall and who worked with Goldberg on "Remaindered," described it as a "very dark comedy" about an author who commits a murder then realizes he's done away with his only remaining fan.
A crew of about 25 to 30 worked on the scenes shot at Sureway all day Sunday, Chaney said.
"It looked like a full-scale production," he said. "And Sureway was wonderful to us. They gave us tons of access."
"It's giving local filmmakers and local actors a chance to experience the way we make movies and TV shows in Hollywood," Goldberg said in an interview with WEHT Channel 25, where Chaney is an assignments manager in the newsroom.
"Obviously it's not a full $25-million Hollywood production or weekly TV series, but we're using the same principals of pre-production and shooting on this little film that we'd be using in a Hollywood production," he added.
Henderson residents Chaney and Neil Kellen, who is a co-worker, fellow filmmaker and who was technical consultant for "victimEYES," designed the lighting for "Remaindered" working with independent filmmakers P.J. Starks and Rodney Newton, who made "Hallows Eve: Slaughter on Second Street."
"This really helps legitimizes what we're doing," Chaney said. "It's really cool for the local indie filmmakers.",p>
Other locations used in "Remaindered" included a private residence and Danhauers Drugs in Owensboro and "a couple of desolate areas around Owensboro for driving shots," Chaney said.