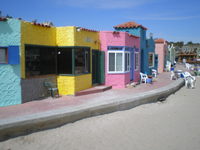 I just got back from our whirlwind road trip through central, northern, and coastal California. Along the way, we stopped in Capitola, where I spent most of my weekends as a child. The cabin we used to stay in (the yellow one), and the beach haven't changed much. The village is much more "upscale" compared to the shabby, hippie-dippy feel it had in the late 1960s and early 1970s when I was there but I was relieved to see that it hadn't lost any of its charm. It's basically the same as it always was.
I sat on the beach and watched the kids playing. They were about eight or nine years old. I could have been looking forty-some years back in time at myself and my friends. I know it's a cliche to say this, but it seems like it was a much more innocent time when I was growing up…or maybe we were more naive. I'd have breakfast with my parents and then they wouldn't see me again until dinner, unless I was playing on the beach or in the river. Otherwise, I'd roam freely all over town, visiting the used bookstore, shopping at Disco (a Wal-Mart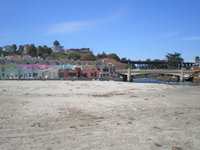 type store in its day), playing with my friends, having an ice cream at the Dairy Queen, walking to the Crockers in Soquel for a cheeseburger, or looking at the magazines at Nussbaum's grocery store. Some times I'd run into my Mom, who would be shopping for antiques, chatting with the artists at the galleries, or browsing the clothes at the Plum Tree. My Dad always stayed outside the cabin, reading books or chatting with the neighbors. Even at night, we were allow to go off on our own to play Skeeball until 9 pm.
If I had a cabin there today, I would never let my daughter roam around town unsupervised…and she's twelve. When I was a kid, I knew all the shopkeepers and they all knew me. So, in a sense, the town was watching out for me. Maybe that would also be true today
for my daughter…but I doubt it.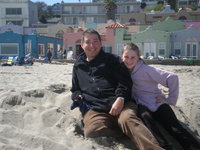 When I think of the freedom I had when I was my daughter's age and younger…and, by contrast, how much we supervise her….I wonder if times have changed or if I am being over-protective.
(You can click on the photos for larger images)