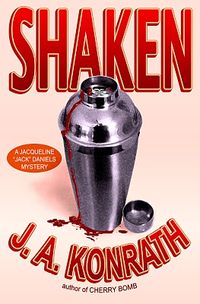 Joe Konrath is breaking new ground on the e-front yet again. Today Amazon announced that Amazon Encore is publishing SHAKEN, his latest Jack Daniels novel, first as a $2.99 ebook in October and then as a traditional trade paperback in February 2011. 
Up until now, Amazon Encore has only reprinted books that didn't make a big splash in their initial release and had fallen out of print. This is the first time they are publishing an original novel. 
Joe took the deal after Hyperion dropped the Jack Daniels series and no other publisher stepped up to publish the new book…and after his extraordinary success selling his other unpublished manuscripts as ebooks on Amazon. 
There's no doubt Amazon has noticed how well Joe's books are doing on the Kindle. From their POV, this deal had to be a no-brainer (though I suspect they would have liked to charge more than $2.99 but less than $9.99 for the ebook).  It certainly was a no-brainer from Joe's side. On top of that, Amazon will find no better cheerleader for the Kindle than Joe, which should lift up sales of all Kindle titles across the board as he works tirelessly to promote SHAKEN. In the Amazon press release, Joe says:
"My Kindle readers have been incredibly faithful fans and I'm excited to be able to release the Kindle edition of 'Shaken' several months before the physical version is available to purchase," said Konrath. "Since it's easier, faster and cheaper to create an e-book than it is a physical book, Kindle owners will get to read the seventh Jack Daniels before everyone else. The ability for authors to reach fans—instantly and inexpensively with a simple press of a button—is the greatest thing to happen to the written word since Gutenberg."
He elaborated in on the deal, and why he took it, in more detail on his blog. He said, in part:
Traditional publishers had a chance to buy SHAKEN last year. They passed on it. Their loss. Their big loss. Their big, huge, monumental, epic fail.[…] I signed a print deal with a company that can email every single person who has every bought one of my books through their website, plus millions of potential new customers. I've never had that kind of marketing power behind one of my novels. I'd be an idiot not to do this.
I think it was only a matter for time before Amazon reached out to Joe to aggressively capitalize on his success instead of passively (they have been getting the lion's share of the money on his ebooks by doing nothing but hosting him). 
Joe is calling this deal a defining moment in publishing and so are his many fans. I'm not so sure that I'd go that far, but it was certainly inevitable. I think the only real difference between what Joe has been doing up with his ebooks and this Amazon Encore deal is that now he will have the full promotional might of Amazon behind him. As an e-venture, this will surely be a massive success, but as a print-publishing venture, I am not so sure. There's no doubt, though, that it's a win-win for Joe, who is bound to see the sales of his current slate of ebooks skyrocket as a result of the Amazon push for SHAKEN (including, ironically, the books still held by Hyperion).
UPDATE 5-18-2010: I woke up this morning to a bunch of emails asking me why this is a significant development in publishing. How is this any different, they ask, than what Joe is already doing self-publishing  his unpublished work on the Kindle?
In essence, Amazon Encore is a publisher that has picked up Joe's mid-list series from Hyperion. They are publishing the book first as an ebook then later as a trade paperback. The difference here is that the publisher is also the largest bookstore on earth and will put their considerable promotional and marketing might behind his book. But there's a bit more to it than that. Here's how Joe explained it in the comments section of his blog post:
"In this case Lee, it's a bit more complicated.

This bookseller is the number one online bookseller in the world, and they've created the number one dedicated ereading device.

Publishers need authors to write books, then booksellers to sell those books.

In this case, Amazon owns the bookstore, and the platform for the ebooks. And by cutting out distributors, publishers, and brick and mortar bookstores, they can offer a professional product faster and cheaper–and give the author better royalties–than a traditional publisher could.

In other words, Amazon is cutting out just about all the players in the traditional publishing industry, and directly connecting reader with author. 

If ebooks, and Amazon, continue to gain popularity, will there still be a need for the Big Six? Or would authors do better by either self-publishing, or dealing directly with the sellers of the new technology? I think this is pretty significant in the publishing world." 

UPDATE: Jason Pinter, author and former editor, shared his worries on The Huffington Post about what this deal means for the future. He said, among other things:
Amazon and other online retailers have made it incredibly easy to publish books on their servers. They give each author the ability to format books price them how the authors themselves see fit. There is certain freemarket sensibility here that is inspiring, and in a way each author becomes the proprietor of their own small business. However, I feel that the example of Konrath will inspire other, less successful and even less talented authors to publish their works online. They might see the Kindle as a bypass, a way to showcase their works that the Evil, Stupid Publishing Overlords in New York were too blind to realize are, in fact, literary masterpieces.

Now, publishing is not a perfect industry. And the examples of books that were rejected numerous times or even self-published that went on to become great successes are many. Because book publishing is a wholly subjective business–the only books that are published are the ones that editors truly love (let's ignore celebrity and cynical publishing). Many wonderful books are rejected because one or more editors simply didn't 'get' it. There are plenty of books I passed on as an editor that went on to be published to tremendous critical and/or commercial success. Every editor has their list of books that they kick themselves for having passed on. That is a flaw inherent in the system, only now it is easier than ever for authors to circumvent the system.