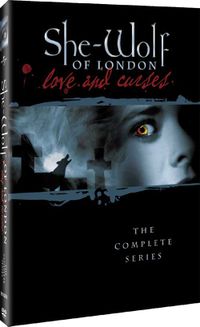 I never thought I'd say this…but the 1990 first-run syndicated series SHE-WOLF OF LONDON aka LOVE & CURSES is finally coming out on DVD. TVShowsOnDVD reports that the complete series, the London and L.A. episodes, will be out February 2. William Rabkin and I were the showrunners and wrote almost all of the episodes. 
The show was hardly seen…it aired as part of Universal Studios' fledgling "Hollywood Premiere Network," which basically consisted of KCOP in Los Angeles and a station in New York. Other shows on the "network" were THEY CAME FROM OUTER SPACE and SHADES OF L.A. 
You can find some of the SHE-WOLF scripts, and even the Writers Guidelines for the show, here.