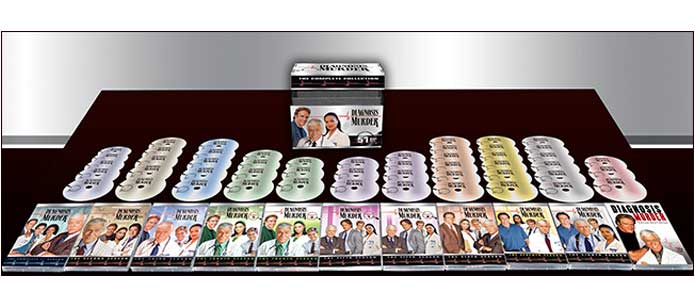 Here's a guest post from my friend Kate Goldstone, a big fan in the UK of crime shows, crime novels and everything noir, who has finally discovered Diagnosis Murder, the TV series that I wrote & produced…and the series of eight novels that I wrote based on the show. 
I don't know about you, but TV-on-demand has changed my life. Whoa girl, that's a bit evangelistic, isn't it? Yup, but its true. Instead of flipping in increasing desperation through millions of channels looking for something cool to watch – a worldwide phenomenon, I should think – at our place we dive right in and immerse ourselves in entire TV series (which is also available now on DVD!). And Diagnosis Murder has been a telly experience of epic proportions, all 178 episodes of it.
Watching the Diagnosis Murder complete series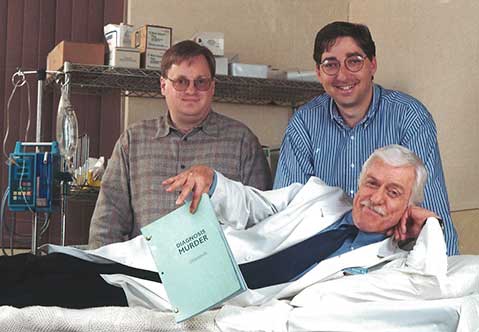 Lee was the  executive producer and principle writer of the Diagnosis Murder series, which made our adventure into medical crime drama even more exciting. We knew the writer/producer personally. We don't usually have that kind of connection to the shows we watch. So what's Diagnosis Murder about? As the plot summary on IMDb says:
"Dr. Mark Sloan is the chief of staff at Commmunity General Hospital. Even though his duties as a doctor keep him busy enough, he still finds time to help the police solve murders (Mark's father was a Los Angeles police detective). He is assisted by young doctors Amanda Bently and Jesse Travis, as well as by his own son Steve, who took after Mark's father. Together they solve some of Los Angeles' toughest murders."
Us Brits do it pretty damn well. The Scandanavians do it beautifully. But top quality US crime drama is something else altogether. You lot tell great stories. And watching a series back-to-back is a completely different experience from drip-feeding your thrill-starved imagination bit by bit, week on week. .
Watched in action consecutively, a series' characters are more colourful, with more depth and subtlety. You don't forget the plot, spending half the next episode puzzling over who did what, to whom, why, when and where, wondering "who on earth is that bloke?". Freed from all that tedious brainwork, you can relax and enjoy the ride in its full glory. Fine detail assumes greater importance, backgrounds and landscapes have more meaning and relevance. It's richer, deeper, broader, a million times more absorbing and lets you appreciate the programme makers' skills to the full.
The only problem is, it's like a good book – you can't put it down. If I had a pound for every night we've crawled into bed far too long after bedtime, eyes gritty and stinging, with heads full of murder and mayhem, I'd be a rich lady by now. As it is, I'm just knackered. But boy, have I had fun.
Diagnosis Murder IMDb – Outstanding mystery medical crime drama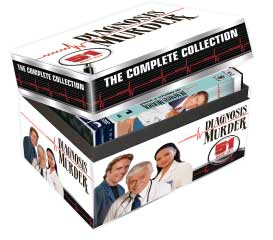 Watch the first few Diagnosis Murder episodes in a row and you'll be hooked. It's so popular there's even a roaring trade in Diagnosis Murder fanfiction, some of it uncomfortably X-rated. There are literally hundreds of guest stars listed on the show's Wikipedia page. And the stars of the show, including Dick Van Dyke, Barry Van Dyke, Victoria Rowell and Scott Baio of Happy Days fame, are developed beautifully throughout the series. The plots are satisfyingly twisty and turny, the science bits are fascinating and the stories don't date. All the hallmarks of top quality crime fiction entertainment, and great fun.
TV.com rates the show 8.6 out of ten, a great score for a vintage show. Here's what one of their reviewers says about it:
"Diagnosis Murder is an excellent medical drama without all the blood of those other medical shows. Dick Van Dyke is classic. Dr. Mark Sloan (Dick Van Dyke) is always interesting being the chief of internal medicine at Community General Hospital and still finding time to help his son, Detective Steve Sloan (Barry Van Dyke), solve homicides as an unofficial consulant to the LAPD. Every episode they manage to find themselves in the middle of a murder, and wittily solve it. It just never gets old. This is just purely a superb show. I'm am very glad that they decided to put Diagnosis Murder on DVD. Many more people need to discover the fascinating addictive show of Diagnosis Murder."
But there's more…there are Lee's Diagnosis Murder books. Which means I am in heaven.
Diagnosis Murder novels
Lee wrote eight novels based on the Diagnosis Murder TV show. I'm currently working my way through them. And it's another completely different experience. I was unable to get the TV actors out of my head as I read the first few chapters of the first book, The Silent Partner.  I suppose that's kind of inevitable when you've just watched 178 episodes in a ridiculously short space of time. But then I got lost in the reading, which is exactly what should happen when you enter a jolly good book. I'm developing my own images of the characters now that I am half way through The Death Merchant, the second in Lee's series.  They don't look or sound like their TV counterparts. I've made them mine. That's books for you.

Oddly enough, the TV series also dovetails cleverly with Lee's Monk books, with two of the characters he created for The Death Merchant turning up out of the blue in Mr Monk Goes to Hawaii and Mr Monk and the Two Assistants. I love it when that happens, when two fictional worlds collide. It makes their reality seem even more alive, populated with comings and goings that are hidden from the reader or viewer, in the imaginary background. Almost uncanny.
5 Diagnosis Murder TV movies for bereft DM obsessives
In case you didn't know, there are also five Diagnosis Murder TV movies to watch. Good to know when the end of a particularly thrilling TV crime series leaves you feeling oddly bereaved, like you've lost a good friend.
Diagnosis of Murder, 1992
The House on Sycamore Street, 1992
A Twist of the Knife, 1993
A Town Without Pity, 2002
Diagnosis Murder: Without Warning, 2002
Movies, books, TV shows. If that lot doesn't fuel your obsession with classic TV crime drama, I don't know what will. Give Diagnosis Murder a whirl. Just don't blame me if you lose sleep because you can't leave the TV remote alone, can't put the books down, can't walk away from the movies. With a bit of luck it'll keep you off the streets and out of trouble for a few months.
What keeps you up nights?
Breaking Bad, Dexter, Deadwood, The Wire, Justified. They've all kept millions of us awake long past bedtime. What's your latest crime TV series obsession, and why?