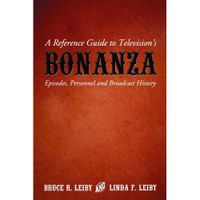 I've been reading a bunch of TV and movie reference books lately, most of which have been a disappointment.
There's a great book to be written about the writing and production of BONANZA, something akin to the brilliant and comprehensive GUNSMOKE: A COMPLETE HISTORY. Sadly, A REFERENCE GUIDE TO BONANZA by Bruce Leiby and Linda F. Lieby, now out in paperback, isn't it. A scant eight pages — eight pages!– are given to the creation, writing and production of the show. The bulk of the book is a workman-like episode guide to the 14 seasons and brief synopses of the TV movies, hardly worth the price of purchase. The only thing interesting and worthwhile about the book are the appendices listing various BONANZA merchandise, books, comics, and records. However, I wish the effort the authors put into gathering so much pointless information — like listing all the shows available on video featuring Tim Matheson — had been focused instead on giving us the definitive history of the show. Consider this a lost opportunity.
The same can be said of STEPHEN J. CANNELL PRODUCTIONS.