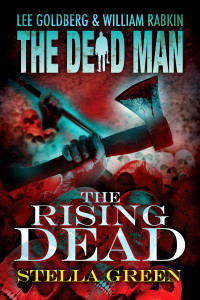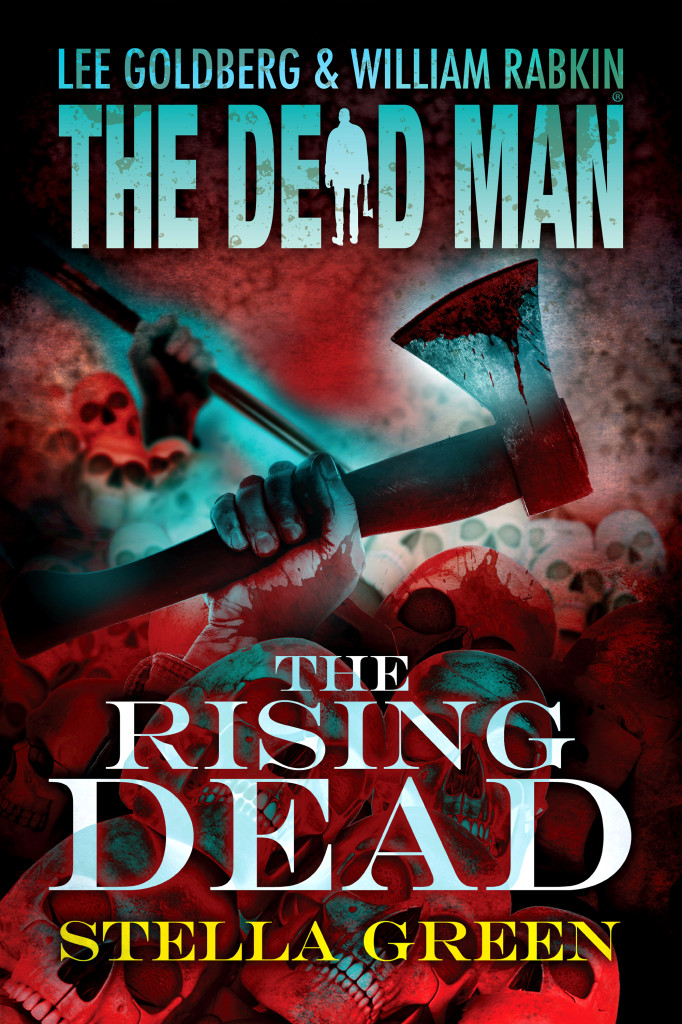 Stella Green is one of my wife's closest friends. Stella showed me the manuscript for her novel Awakening Snakes. The book was great, and her voice was so strong and self-assured, that I couldn't believe it was her first novel. So it was a no-brainer for me to offer her an assignment writing the 21st  Dead Man novel. Her novel,  The Rising Dead, has just been released by Amazon's 47North imprint…and is the final "regular" installment in the bi-monthly series before the series returns with REBORN, a big Dead Man Amazon Kindle Serial that's coming in early 2014.  Today I invited Stella to talk about her experience writing The Rising Dead…
When Lee asked if I wanted to write a Dead Man book, I wasn't sure I could write an action book, but I certainly wanted to try. Who doesn't like stories with tortured characters battling evil, especially when the bad guys are rotting from the inside out?
My biggest hurdle came quickly — the plot. A detailed outline was something new for me. Of course, this type of planning is absolutely necessary in a book series with multiple authors. Unfortunately for me, the group of fine writers that proceeded me had already put Matt Cahill through many varieties of Hell. Most of my ideas were shot down because they were similar to those of other writers who were in different stages of finishing their books. Some of my other inspirations were, well, let's just say Lee wasn't feeling them — especially the ones with pirates. Working with someone else's characters is quite different than working with your own. You have to respect the world they've created. After a few weeks of flailing, I wondered if I was ever going to get it right, but Lee didn't give up on me. Eventually something better came along: the Stranger.
I liked the idea of a character who had lived a dark and difficult life — like Matt Cahill's — for hundreds of years. A person would either go mad or become extremely hard. During drives through the desert between Los Angeles and Phoenix I've seen dangerous looking drifters. They make me remember to lock my car doors; they also make me wonder what their stories are. I began calling my character the Stranger because I hadn't decided on a name. Later, I realized he had worked hard to isolate himself and become the unknown, so I let him stay The Stranger.
Lee and Bill were open to a new character, and with their help, I finally had that detailed outline. The actual writing flowed. Now I understand the value of all that prep work.
So I think I've finally got an angle on those pirates that Lee is really going to love…
In the mean time, here's more on my novel The Rising Dead. I hope you like it!
Matt Cahill was an ordinary man leading a simple life until a shocking accident changed everything. Now he can see a nightmarish netherworld that exists within our own. Now he's on a dangerous quest for the answers to who he is and what he has become…and engaged in an epic battle to save us, and his soul, from the clutches of pure evil.

In the blasted hell of the Arizona desert, Matt hitches a ride with a young couple who meets a terrible fate that he's powerless to stop. The bloody encounter leads him to a mysterious stranger with a terrifying history…who may know the reason for Matt's resurrection and hold the key to finally ending his lonely quest. But first they must survive in an unforgiving wasteland to do battle with a gang of heavily armed smugglers who trade in human flesh.