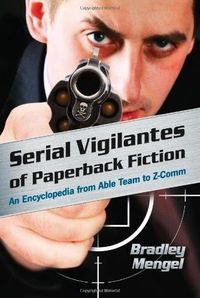 I'm a sucker for unusual reference works about the media, whether its books, movies or TV shows (and you gotta love McFarland for publishing so many of them). Bradley Mengel's "Serial Vigilantes of Paperback Fiction" was a must-have for me, even before I read the rave reviews on Bookgasm and Bill Crider's blog.
I've always loved pulp novels like "The Executioner," "The Penetrator," "The Death Merchant," and "The Destroyer." In fact, I did a scholarly, unpublished examination of the vigilante genre myself many years ago for a UCLA class…and as research for writing my first novel, .357 Vigilante, under the pseudonym "Ian Ludlow" (yes, it's covered in this book, and accurately, too. And notice how similar the cover of his book is to mine).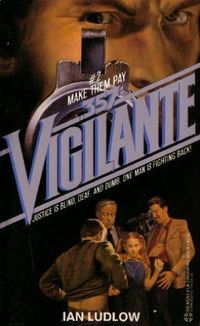 For me, the best part of Mengel's book is discovering who actually wrote the novels written under "house" names…and learning the inside story on the development of so many obscure pulp series. This book is clearly a labor of love, but it leans more towards scholarly analysis than fannish drool. It's a great book for fans of pulps, rich with details and background information, and offers a historical overview of a genre, and a class of mass market paperbacks, that are all but dead today (except for Gold Eagle's "Executioner" books). Many of these books, and their authors, would have been forgotten if not for this one-of-a-kind reference work, which also offers a glimpse at the influence and workings of book packagers/"creators" in the 60s,70s & 80s.
The only drawback of this book is the steep $45 cover price. To save a few bucks, I bought the Kindle edition, which was also inexcusably pricey at $16, especially since the book doesn't really lend itself to easy reading on an e-reader. Even so, I'm glad I bought it.