The Smart Bitches Who Love Trashy N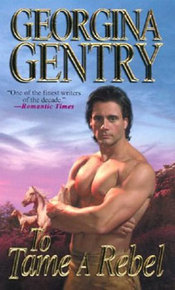 ovels are at it again with another hilarious critique of horrible book covers…this week, they skewer books with "Tame…" in the title. Here's one of my favorites:
Candy: Bitch, please. This is the cleanest-cut rebel I've ever seen. What's rebellious about him? His unnatural love of Brylcreem?
His choice to use steroid cream AND shoot it up? His decision to use
SPF15 instead of SPF40 sunscreen? His weirdly offset nipples?

Sarah: Whoo. What a rebel. To throw off the expectations of
society, and insist, visit after visit to the hair salon, on sporting a
mullet. The mullet alone is worth the 300-page effort of taming him.