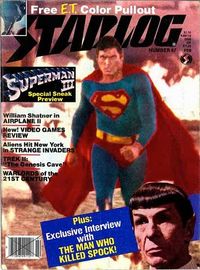 I put myself through UCLA writing for the The Daily Bruin (along with future X-FILES producer Frank Spotnitz) and freelancing for local and national publications. I also ended up writing a few sleazy novels under the pen name "Ian Ludlow," but that's another story.
What got me thinking back to those days was a blog post by John Zipperer , reviewing the February 1983 issue of Starlog, which was a milestone for me because it included my interview with Star Trek II screenwriter Jack Sowards — and my first sale to Starlog Magazine. I would end up writing hundreds of articles for Starlog (maybe it was less, but it sure felt like hundreds!) over the years that followed, but I can still remember how thrilling it was for me to get that acceptance letter from Dave McDonnell who, as it happened, was just starting what would be end up being a nearly thirty year career as managing editor of the magazine. 
It wasn't just a way to put myself through school…it was my real education. What I learned from all the screenwriters, directors,  network executives, producers, studio heads and actors that I interviewed for Starlog, Newsweek, American Film, Los Angeles Times, San Francisco Chronicle, and other publications shaped the career I have today. They taught me what I know. 
I am still amazed at all the people I got interview…like George Lucas, William Friedkin, Richard Donner, Lorenzo Semple Jr., Robert Zemeckis, Richard Maibaum, Wes Craven, Peter Hyams, Stephen J. Cannell, Steven Bochco, Richard Marquand, Glen Larson, Tom Cruise, Roger Moore, Roy Huggins, Johnny Depp, Fred Silverman, John Lithgow, Brandon Tartikoff, Grant Tinker, Bud Grant, Norman Lear, Martin Landau, Gene Roddenberry, Kurt Russell, John Korty, Paul Verhoeven, Harlan Ellison, Irvin Kershner, Dan Curtis, Wolfgang Petersen, William Shatner, Timothy Hutton, Roy Scheider, Michael J. Fox, Roger Corman, Ray Bradbury, Darren McGavin, Chevy Chase, John Carpenter, W.D. Richter, Raquel Welch, to name just a few (some of whom, like Cannell, Silverman, Huggins, Larson, Corman, Hutton and Scheider, I would later end up working with as a writer/producer. Only two of them, Cannell and Huggins, remembered that we'd met years before when I was a reporter, but that's because I interviewed them multiple times). 
And I knew how lucky I was even as it was happening. I still have many of audio cassettes from those interviews. One of these days I should get around to digitizing them before they erode away forever…