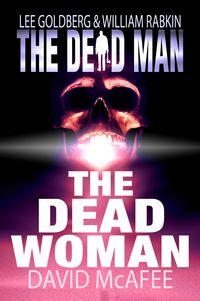 David McAfee's THE DEAD WOMAN, the fourth book in the DEAD MAN series, is out today as an ebook on the Kindle, the Nook , and on Smashwords, as well  as in a trade paperback edition. 
The widely acclaimed DEAD MAN series is about Matthew Cahill, an ordinary man leading a simple life…until a shocking accident changes everything. Now he can see a nightmarish netherworld of unspeakable evil and horrific violence that nobody else does…
For Cahill, each day is a journey into a dark world he knows nothing about…a quest for the answers to who he is and what he has become…and a fight to save us, and his soul, from the clutches of pure evil.
He thought he was alone with his torment, but in a small town in Tennessee, terrorized by a vicious serial killer, Matt meets a woman sees what he does…and together they must confront a horrific and immortal terror that thrives on death.
David McAfee is the author of the Kindle bestseller 33 A.D., a bloody thrill-ride through biblical Jerusalem that pits Jesus Christ against vampire assassins. So naturally I thought he'd be perfect fit for THE DEAD MAN series.
THE DEAD MAN books have been getting some fantastic reviews…here's just a sampling:
The story races by at a brisk rate of knots, each twist and turn, and shift in time providing another revelation […] I was enjoying it so much, I didn't want it to end. –Permission to Kill Blog 

THE DEAD MAN FACE of EVIL reminds me of Stephen King and Dean Koontz.[…]a fascinating horror story that leaves you wanting more, more, more!  –Futures Mystery Anthology Magazine 

Hell in Heaven is a direct spiritual descendant of the sorts of awesome pulp action adventure tales that the greats like Robert E. Howard loved to write.  –Post-Modern Pulps

I've not seen a writing tandem like this since the glory days of Richard Sapir and Warren Murphy –Bookgasm


Hell in Heaven is the best so far in an already splendid series and is super rush of a read with plenty of sharp twists and turns and some truly smashing lines. –Paul D. Brazill

This series has kept me rapt from the first page […]these authors are the Jamaican sprint team doing the 4x100m relay, each stage just gets better and better. –Right What You No

Isn't it time you started reading THE DEAD MAN series?