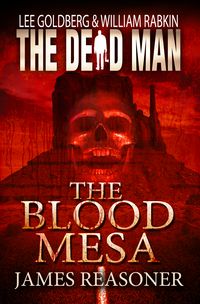 THE DEAD MAN #5: THE BLOOD MESA by James Reasoner, the laziest writer on the friggin' planet, is out today in ebook and paperback editions…and it's perhaps the bloodiest tale yet in the series. Matt Cahill finds himself trapped atop a blood-red mesa in the desolate American Southwest when an archeological dig goes terribly, dangerously wrong, awakening an ancient evil with an insatiable hunger. Now Matt, armed only with his trusty ax, must somehow escape…rescue a handful of terrified innocents… and prevent a slaughter of epic proportions.
He talks on the Dead Man Blog about his experience writing it. He says: 
it has strong elements of horror and the supernatural, and for the most part this is unexplored territory for me in my work.  True, I've done a few Westerns that had mild supernatural elements (often of the Scooby-Doo variety!), but THE BLOOD MESA is the first real horror novel I've written, even though I've been a reader and fan of horror for many, many years. But most important of all for me, writing THE BLOOD MESA was fun, just as I thought it would be.  I had an absolutely great time with it,
And you're going to have a blast reading the book, which is already getting some great reviews. Like these:
If you like horror with a dash of suspense then you should read the DEAD MAN series. They are not only fun but addictive […] All of the books in the series are great and THE BLOOD MESA is no exception. On a scale of 1 to 5, I give it a 5! – Futures Mystery Anthology Magazine

I dare say Reasoner also offers up the most gruesome iteration in The Dead Man so far, as some of the deaths in this one are nothing less than brutal.  - Wag the Fox 

This story is the literary equivalent to a drag strip race […] the story keeps accelerating until its brutal climax. That truly is its strength – it's rapid fire pace and its unflinching brutality (which you've got to expect from a series featuring an axe wielding hero). ––Permission to Kill 

The story riffs off of some creepy western themes, with a hefty dose of cannibalism, whacko/zombie-movie mania, and did I mention there's a few sticks of dynamite thrown in for good measure? […]It is highly recommended. – Post Modern Pulps

If you like this book, you're going to want to grab the previous books in the DEAD MAN series:
FACE OF EVIL by Lee Goldberg & William Rabkin
RING OF KNIVES by James Daniels
HELL IN HEAVEN by Lee Goldberg & William Rabkin
THE DEAD WOMAN by David McAfee
Coming in August… KILL THEM ALL by Harry Shannon.