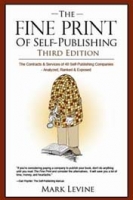 Mark Levine has just published the third edition of  THE FINE PRINT OF SELF-PUBLISHING. I was a fan of the first edition and this one is even better. Particularly useful are the updated and expanded  examinations of the various self-publishing companies, their services and their contracts.
Anybody who is thinking about self-publishing must read this book first.  Even authors who aren't interested in self-publishing will come away, as I did, with a deeper understanding of publishing contracts and what the various clauses actually mean for you.
I strongly recommend this book.