I hated THE GIRL WITH THE DRAGON TATTOO. I thought it was a boring, cliche-ridden, bloated mess. The Lisbeth Salander character was, by far, the best thing about it…unfortunately,  the story centered primarily on Michael Blomkvist, a thinly disguised, idealized version of the author himself and the magazine he founded. It's an awful book.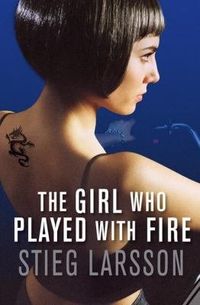 The only reason I read the sequel, THE GIRL WHO PLAYED WITH FIRE, is because so many people told me it was a much better book than TATTOO…and that it would make me understand the phenomenon. To some degree, they are right. The first third of the book is centered on Salander and her adventures abroad and back in Sweden…which actually are a lot of fun to read, if you can get past all the cliches (more on that in a minute). Salander is a great character that's stuck, unfortunately,  in two lousy novels.
The instant Michael Blomkvist returns, and even before he takes the spotlight, the book becomes overwhelmed with dull exposition (which is repeated endlessly, telling you the same facts over and over and over again), ridiculous coincidences, and pointless scenes that neither move the story forward nor reveal character. The characters become so thin that calling them "cardboard" would be giving them more substance and depth than they actually have. As if this wasn't punishment enough for the reader, the cliche-count radically increases as the book slogs on until it seems like there's one in every paragraph. Here are just a few of them:
"Nutty as a fruitcake"
"Go jump in a lake."
"he's pulling my leg."
"too many irons in the fire."
"out like a light."
"keep it under our hats."
"like a hot potato."
"you're clutching at straws."
"afraid he'd spill the beans."
"the penny dropped." 
"she's a loose cannon."
"cool as a cucumber."
"fight tooth and nail."
"kept her nose clean."
"fly in the ointment"
And so it goes, on and on, one dusty old cliche after another. By far the most used cliche in the book is "Hung out to dry/hang out to dry." It was used a dozen times before I gave up counting. I doubt these are Swedish cliches, so I blame the translator for being a lazy hack…and his editor for not doing his job.
This is a truly terrible book on just about every level. That said, it's marginally better than TATTOO by virtue of the first third.