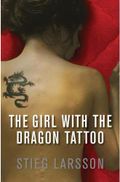 I admit it, I am out-of-step with current, popular taste, because I seem to be the one man on earth who thinks that the international bestseller  THE GIRL WITH THE DRAGON TATTOO is a lousy book. I'm not even sure why I finished reading it. Sonny Mehta, the book's U.S. publisher at Knopf, calls it "deeply ambitious, insightful and fiercely smart," and I am here to tell you it is none of those things.  
The book is two-thirds exposition… we're talking hundreds and hundreds of pages of numbingly dull backstory that brackets the one third in the middle where something actually happens. Unfortunately, what happens isn't ambitious, insightful, fiercely smart or even mildly interesting. And it's
all
written with cliche-ridden prose that is so bad that it's distracting. (that may be the fault of the translator, Reg Keeland, and not the original, Swedish author, Stieg Larsson). Here are some examples:
"I think you are grasping at straws going to Hedestad."
and
"Ricky, that story is dead as a doornail."
and 
You didn't have to be a rocket scientist to see that these events were somehow related. There had to be a skeleton in one of their cupboards.
These are just three examples out of hundreds. And there are also a lot of clumsy descriptions, like this one: 
She looked like an ageing vampire — still strikingly beautiful but venomous as a snake.
So is she a vampire or a snake?  Are vampire venomous? And there are even clunkier sentences, like this one:
Harald Vanger had gone back to his cave by the time Blomkvist came out. When he turned the corner, he found someone quite else sitting on the porch of the cottage.
Someone quite else?? Either Larsson was a very bad writer or the translator's grasp of English isn't so good. It certainly doesn't strike me as "fiercely smart."
The title of the book is misleading, too, since it refers to the hero's sidekick and not the actual central character, who is a one-dimensionally valiant reporter for a financial magazine who is irresistible to women. If the women that he meets don't bed him immediately and fall madly in love with him, it's clear that they desperately want to.  Virtually all the men in the tale are sadists and all the women in the story have been sexually brutalized, willingly or unwillingly (it's mentioned in an aside that the reporter and his business partner/lover dabbled in S&M and bondage for fun years ago). Maybe that's why the original title of the book in Sweden was MEN WHO HATE WOMEN. I'm not kidding, that was the title.
It all adds up to a book that's heavy on dull exposition, glorifies rape & torture while pretending to disapprove, and is written in unbearably flat, cliche-ridden prose. I can't find a single positive thing to say about the book except that the galley was well-bound and is no longer taking up space on my bookshelf.
Sorry you didn't like the translation. I originally translated it into American English, but then the book was bought in the UK, and the Scottish editor really did a number on it — hence my pseudonym. I'm hoping Knopf's edition of books 2 & 3 will come out better. — "Reg Keeland"