When my Mom died in November, and we were settling her accounts and subscriptions, we discovered that she'd renewed People Magazine through March 2015. We tried to get the magazine to cancel the subscription and refund the money, but they refused. So now we're getting the magazine here at the house. It's fine bathroom reading, let me tell you. What we couldn't figure out is what possessed my Mom to renew her subscription so far in advance. 
Now we know. She was tricked into it. 
Today, she got a bill from People Magazine, which I found pretty surprising, since my Mom was paid up well into the afterlife. 
Inside, I found an invoice that stated that her minimum amount due is $237.30, that her minimum current payment due is $158.20, and that it must be in by 1/16/11.  You can see the invoice yourself right here (I've redacted her account number and address).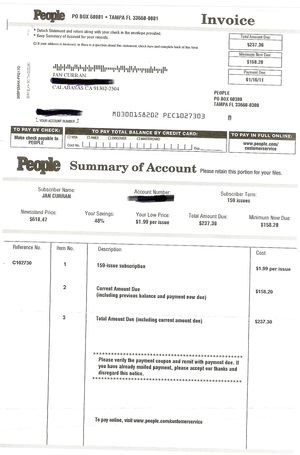 You'll notice that nowhere on the "Summary of Account" does it state that this is simply a renewal offer, that she doesn't actually owe anything, and that her subscription doesn't expire for another four years.
My mother lived on a fixed income. She was tens of thousands of dollars in debt. And she had big medical bills. But I have no doubt that if she was still alive today, as ill as she was with "chemo brain," she would have paid this "bill" thinking that she owed the money and that she'd lose her subscription if she didn't. 
This invoice is an example of reprehensible business practices. You'd think that People Magazine would be required by law to say, clearly and in large letters, that this is a renewal offer and not a bill, that no payment is required at all, and that the current subscription is not in danger of expiring for a few more years.
The people at People Magazine are garden-variety swindlers, preying on the old and the addled, and they should be stopped from engaging in this kind of deception. It's shameful.
Does anybody know which government agency I can complain to about these scumbags?