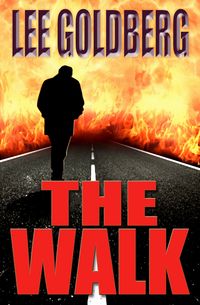 Back in 2004, I wrote a book called THE WALK, which was released in hardcover by Five Star and quickly slipped into obscurity.  But a little over a year ago, I made the book available on the Kindle… and since then, it has sold nearly 9000 copies. Non-Kindle users have repeatedly asked me to release a trade paperback edition. I am pleased to announce that a paperback edition is now available on Amazon and CreateSpace for $11.99.
Here's the story:
It's one minute after the Big One. Marty Slack, a TV network executive, crawls out from under his Mercedes, parked outside what once was a downtown Los Angeles warehouse, the location for a new TV show. Downtown LA is in ruins. The sky is thick with black smoke. His cell phone is dead. The freeways are rubble. The airport is demolished. Buildings lay across streets like fallen trees. It will be days before help can arrive.
Marty has been expecting this day all his life. He's prepared. In his car are a pair of sturdy walking shoes and a backpack of food, water, and supplies. He knows there is only one thing he can do … that he must do: get home to his wife Beth, go back to their gated community on the far edge of the San Fernando Valley.
All he has to do is walk. But he will quickly learn that it's not that easy. His dangerous, unpredictable journey home will take him through the different worlds of what was once Los Angeles. Wildfires rage out of control. Flood waters burst through collapsed dams. Natural gas explosions consume neighborhoods. Sinkholes swallow entire buildings. After-shocks rip apart the ground. Looters rampage through the streets.
There's no power. No running water. No order.
Marty Slack thinks he's prepared. He's wrong. Nothing can prepare him for this ordeal, a quest for his family and for his soul, a journey that will test the limits of his endurance and his humanity, a trek from the man he was to the man he can be … if he can survive The Walk.
If you are a book critic/blogger, and would like a free review copy of  THE WALK… as a PDF, an ebook, or  as a trade paperback… please send your name, the address of your blog/website, and your preferred format to lee@leegoldberg.com.