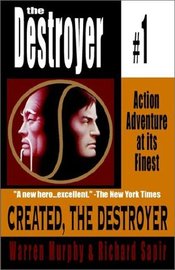 My friend Warren Murphy clued me in to this National Review article about why his right-wing superspy Remo Williams, aka THE DESTROYER, has become more liberal:
So how does a highly successful 34-year-old book series that was once firmly
grounded in patriotic and good old-fashioned Right-leaning American values end
up listing Left-ward and, at least as a partial consequence, now find itself on
the verge of cancellation? Blame Canada, says series creator Warren Murphy
(co-creator Richard Sapir died in 1987). Since 1994, the once-great series has
been published in Toronto by Gold Eagle, a subsidiary of Harlequin Enterprises,
Ltd.

The novels' leftward lean began in the 1980s with the death of co-creator Sapir,
which was then followed by the retirement of Murphy from the series. It was at
that point that a ghostwriter was brought aboard who, while prolific (there are
four Destroyers published every year), lacked the conservative
convictions of the original authors. The humor became sophomoric, turning off
many longtime readers, and the political jabs frequently began to strike against
the right.

A publisher of standard guns 'n' guts action novels, Gold Eagle has never
been certain what to do with a series that doesn't conform to the expectations
of the genre. Is The Destroyer action, humor, political and social
satire, mysticism, or science fiction? (At times, it is all of these.) A
hands-off editorial approach has developed which, although conforming to the
dreams of every writer, has allowed too much freedom in several important areas.
One of these areas of freedom — politics — has allowed new writers to undermine
one of the founding principles of the series.
The article goes into far more detail than the excerpt here. It's well worth reading, particularly for the glimpse into business behind ghost-written series.