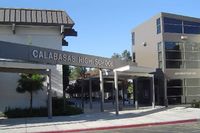 Everything you need to know about Calabasas, the town where I live, can be gleaned from looking at the crimes reported in today's police blotter:
A student at Calabasas High School filed a grand theft report after property was stolen from her car.

The missing items included a $1,600 Louis Vuitton brown leather purse, a $300 brown leather Louis Vuitton wallet, a $400 silver digital camera, a $250 black ipod, and a $200 Louis Vuitton leather checkbook.

She was unsure whether the doors to her car were locked and there was no sign of forced entry into the vehicle.

Gum and Cookie Caper

The Shell gas station on Agoura Road was robbed of a 14 sticks of Orbitz gum worth $3.98 and a $.79 pack of cookies.

The employee told police that a female entered the store and paid cash for $5 worth of gas and took two packs of gum. She pumped the gas and returned to the story, where the clerk asked her to pay for the gum.

The female replied, "I just gave you $30," grabbed a package of cookies, left the store, and drove away.