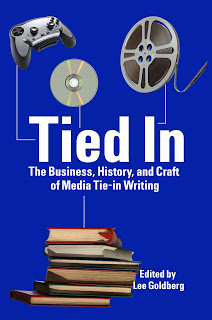 The International Association of Media Tie-In Writers is pleased to announce the publication of TIED IN: The Business, History and Craft of Media Tie-In Writing, edited by Lee Goldberg.
Tie-in novels are books based on pre-existing media properties — like TV shows, movies and games — and they regularly top the national bestseller lists. But as popular as tie-ins books and novelizations are among readers, few people know how the books are written or the rich history behind the hugely successful and enduring genre.
This 75,000 word book is a ground-breaking collection of lively, informative, and provocative essays and interviews by some of the best-selling, and most acclaimed, writers in the tie-in business, offering an inside glimpse into what they do and how they do it.
Contributors include Alina Adams, Jeff Ayers, Donald Bain, Burl Barer, Raymond Benson, Max Allan Collins, Greg Cox, William C. Dietz, Tod Goldberg, Robert Greenberger, Nancy Holder, Paul Kupperberg, Jeff Mariotte, Elizabeth Massie, William Rabkin, Aaron Rosenberg, David Spencer, and Brandie Tarvin.
Our hope is that our organization, through efforts like this book, can enlighten readers about who we are and what we do, as well as explore the diversity of our work and the rich history behind it.
TIED IN is currently available in an e-edition on Amazon and Smashwords (and soon on the iBookstore and Barnes & Noble). A trade paperback edition will be published later next month.