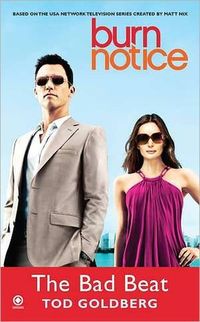 After writing five BURN NOTICE  books, my brother Tod has called it quits, turning down a contract for more. Remarkably, the publisher has decided to retire the series as a result. Now that THE BAD BEAT,   his final book in the series is coming out, Tod reflects on his blog today on what he's learned from the experience. Here's an excerpt:
…writing Michael Westen taught me how to write series fiction and, beyond that, how to pace commercial crime fiction. See, previously, the crime fiction I wrote was decidedly not series and decidedly not commercial, really. (And I would argue that I never really set out to write crime, specifically, even if Living Dead Girl and Fake Liar Cheat and a bunch of my short stories are, you know, stories about crimes.) At any rate, writing the books required a completely different skill set — the deadlines alone required that they be almost completely plot and voice driven, which is somewhat different than my other work which tends to be character and setting driven. Writing Burn Notice has changed the way I approach crime fiction, which is good since the novel I'm writing now — more on that in a moment — is a pretty straight crime novel. 

[…] because the deadlines were so close, I also had to learn to not be an obsessive rewriter, which meant I had to keep a pretty tight plot, which meant I did more outlining than usual…and by that I mean I outlined anything at all, which I typically don't do. I also ended up trusting myself more. Usually when I'm working on something new, I show drafts to my wife or to my agent or trusted friends to get some feedback, but I just didn't have the time to do that with these books and the result is that I ended up needing to be honest with myself. Not an easy thing for any writer.
Now I don't feel so guilty about getting him the gig.