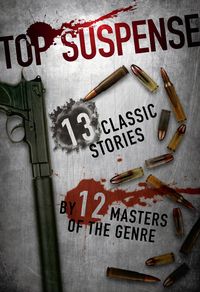 Hold on tight for a literary thrill-ride into the wickedly clever, frightening, and exhilarating world of  Top Suspense, a sizzling collaboration of twelve master storytellers at the peak of their
powers in thirteen unforgettable tales…Max Allan Collins, Bill Crider, Stephen Gallagher, Joel Goldman, Libby Fischer Hellmann, Naomi Hirahara, Vicki Hendricks, Paul Levine, Harry Shannon, Dave Zeltserman, and yours truly.
This unforgettable anthology – packed full of cold-blooded killers, erotic tension, shady private eyes, craven drug dealers, vicious betrayals, crafty thieves, and shocking twists – is coming out on APRIL 1 and is only a taste of the thrills you will find in the breathtakingly original ebooks by these authors at www.topsuspensegroup.com.
But you can get a FREE ADVANCE READING COPY...in your e-format of choice.
Here's all you have to do:
1. Send me an email at lee@leegoldberg.com with the subject FREE TOP SUSPENSE BOOK and give me your name and the address of your website or blog (don't have one? That's okay. Read on).
2. Agree to post a review, positive or negative (but with no spoilers!) on your blog, website, Goodreads page, Facebook page, or the Amazon listing for TOP SUSPENSE in the next 60 days. (You don't have to buy the book on Amazon to review it there, you only need to have an account). 
3. Email me a copy of the review or a link to the post.
Each Top Suspense author has been alotted just 25 copies to giveaway, so if you're interested, you'd better hurry. And once you get your book,  sit back, bite down on a piece of strong leather, and prepare to get hit by some gale-force suspense and writing so sharp it will draw blood.