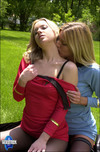 Maclean's Magazine investigates the revelation that a surprising number of pedophiles arrested by the Toronto Police are Trekkies:
The first thing detectives from the Toronto
police sex crimes unit saw when they entered Roderick Cowan's apartment
was an autographed picture of William Shatner. Along with the photos on
the computer of Scott Faichnie, also busted for possessing child porn,
they found a snapshot of the pediatric nurse and Boy Scout leader
wearing a dress "Federation" uniform. Another suspect had a TV remote
control shaped like a phaser. Yet another had a Star Trek
credit card in his wallet. One was using "Picard" as his screen name.
In the 3 1/2 years since police in Canada's biggest city established a
special unit to tackle child pornography, investigators have been
through so many dwellings packed with sci-fi books, DVDs, toys and
collectibles like Klingon swords and sashes that it's become a dark
squadroom joke. "We always say there are two types of pedophiles: Star Trek and Star Wars," says Det. Ian Lamond, the unit's second-in-command. "But it's mostly Star Trek."
Neva Chonin at the San Francisco Chronicle isn't convinced there's a connection.
"Star Trek" fans get no respect. When they're not being derided for
living in their mothers' basements, they're being mocked for studying the
Klingon alphabet. Life for Trekkies is especially tough these days, with their
television franchise finally fading into retirement after decades of spin-off
series and film adaptations.

And now this. An April 27 Los Angeles Times story on the exploits of the
Toronto Police Service's Sex Crimes Unit reported on "a dark fact" uncovered
by its Child Exploitation Section: "All but one of the offenders they have
arrested in the last four years," the article revealed, "was a hard-core
Trekkie."

Wha … who … huh? I know that the Vulcan mating ritual of Pon Farr can
arouse some unruly passions, but hey. Kiddie porn? Child exploitation among
those benign nerds who flock to comic conventions in their Federation
uniforms? Say it isn't so. Or at least present plausible evidence why it is…

…Yeah, right. Color me skeptical, but I require a little more to sell me
on the "dark fact" that "all but one of the offenders they have arrested in
the last four years was a hard-core Trekkie." If there's empirical evidence,
trot it out. (Hard-core Trekkie membership cards? Salacious action figure
dioramas? What?) If there's a causal relationship, at least try to explain it.
If you "can't really explain it," don't bring it up. Geeks get enough grief as
it is, man; they don't need to be labeled perverts.