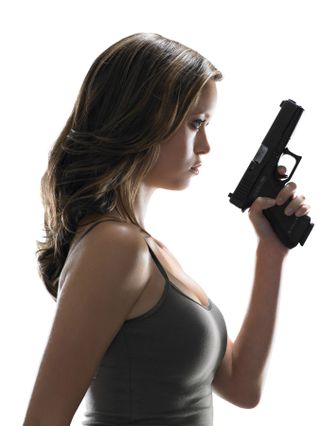 TERMINATOR: THE SARAH CONNOR CHRONICLES showrunner Josh Friedman and DOLLHOUSE showrunner Joss Whedon are well aware that viewers haven't been happy with the last three episodes of their respective shows. DOLLHOUSE star Eliza Dushku is urging viewers to stick around until episode six, when the show really gets good:
"[…] Joss is best off left alone to do his thing. That happens around episode six—six through 13 are just extraordinary. I love one, two, three, four, and five, but Joss' first script that he did after the pilot is number six, which is called "Man On The Street," and it is just unbelievable. From that point on, the world unfolds in Joss' way, with Joss' speed, and it's really remarkable. "
Only it happens five episodes too late for all but the most rabid Whedon fans. Meanwhile, Friedman acknowledges
on his blog
that his show, now in the final legs of it's creatively wobbly and ratings-challenged second season, may have gotten bogged down the last few weeks in Sarah Connor navel-gazing, but it's going to rebound:
[…]some months ago I determined to steer the show towards its title, towards Sarah Connor. I wanted to explore not simply the idea of chasing Skynet and all that that entails, but also the psychological effects of doing so. It wasn't enough to just hunt/fight/protect; I wanted to see what was going on inside her head, especially when those around her doubted her. Now some of you find that interesting, some of you don't, some of you probably would but don't think I've done a good job depicting it. And most of you are just pissed there's not enough Cameron.
Is it difficult starting up with dark, psychological episodes after being gone for two months? Seems that's the case. People are worked up about the Friday night thing and the ratings and I probably underestimated that microscope in my desire to explore Sarah and her demons. To be completely honest, the network warned me not to do it but I felt (and still feel) these stories […]were/are vital parts of the show.
He wanted to show the aftermath of terrible things happening, and he was in love with the idea of a whole town that's struck by tragedy. Unfortunately, the execution wasn't as great as it could have been.

"Don't feel bad about not liking 'The Desert Cantos,'" Friedman told me.

Friedman said the writers wrote down all 22 of the season's episodes on a white board, and then went through and erased the weakest episode, and then the next weakest, until they were left with the best, by common consent. "The Desert Cantos" was the first episode to get erased, said Friedman.

The good news is, the remaining six episodes are among the best, according to all the writers. And the last three episodes of the season are all in the top four episodes of the season according to the writers' room consensus, said Friedman.
I admire both of these guys very much as writers and as showrunners, but c'mon,
what were they thinking?
In this highly competitive primetime environment, no series can afford to have three episodes in a row that suck…especially the first episodes that are intended to be sampled by
new
viewers. 
It's a lot ask viewers today, especially those sampling a show for the first time, to stick around if the first episode or two that they see doesn't wow them. Or, as New Jersey Star Ledger critic Alan
Sepinwall put it:
But this whole "things get better X number of episodes" routine from skiffy showrunners is starting to get annoying. And even if Friedman's right, good lord were these episodes a slog. […]Some combination of actress, writing and network notes have made Sarah Connor — a character so iconic she got her name in the title over future messiah John — into this opaque nothing. […] Either Friedman's telling the truth and the show is about to take an abrupt turn for the better, or he's not and it'll be canceled soon (and I'll be gone before that happens). This was a bad, bad stretch for the show. End of story.
I've been a TERMINATOR fan
since the pilot,
so I will probably stick with it until the bitter end, even though it has been very uneven this season…and
downright boring
for the last three weeks. But DOLLHOUSE
lost me after episode two
and I can't think of any reason to come back for episode six.