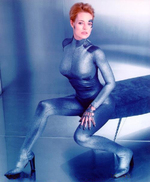 The news that Jeri Ryan, who played the Busty Borg on STAR TREK VOYAGER, will be guest-starring on the two-hour season finale of BOSTON LEGAL is going to send Trekkies into a galatic tizzy. Why? Because the episode represents a cross-over rift in the casting time/space continuum between three different STAR TREK series. Jeri and her Borg boobs will be sharing the screen with William Shatner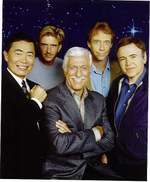 (STAR TREK) and Rene Auberjonois (a regular on DEEP SPACE NINE and a guest-star in one STAR TREK movie).
It's just the kind of stunt-casting we were famous for on DIAGNOSIS MURDER. Obviously, someone on BOSTON LEGAL is a TV geek after my own heart. It was only a few months ago that they paired Shatner up with his TJ HOOKER co-star Heather Locklear. I kept waiting for James Darren to show up.
If BOSTON LEGAL comes back next season, I wouldn't be surprised if Leonard Nimoy, Walter Koenig, George Takei, Joe Regalbuto, Faith Ford, and Grant Shaud appear in episodes…