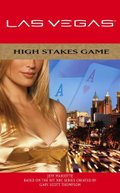 Author Jeff Mariotte talks on his Amazon blog about the unique obstacles he faced writing the first original LAS VEGAS series tie-in novel. He worked up an outline, turned it into the show's creator/ep Gary Scott Thompson, and went off on a road trip with his family before hunkering down to write:
During that
time, Gary had a new idea. Since I wasn't checking e-mail every day on
the road, I missed an e-mail scheduling a new conference call. Gary
kindly agreed to yet another to make up for the one I missed, and he
told me his new idea. At the end of Season Two, the Montecito Hotel
and Casino was blown up. Season Three picked up six months later,
during which time a new one had been built. All the characters had
been scattered to the winds, relationships had ended or changed, and
one character, Nessa Holt, wasn't returning. Gary wanted the show to
pick up with the opening of the new Montecito, and didn't want to have
to fill in the missing six months on the air. So he wanted the novel
to do that, to tell fans where Nessa went, what happened between Danny
and Jenny, how the new Montecito was built so quickly, etc.
In many ways, I bet this was a creative blessing for Jeff. It allowed Jeff to break new ground creatively with the characters and yet, at the same time, still remain true to the show. It will be a hard act to follow for his second LAS VEGAS book…assuming another calamity doesn't befall the characters in this season's finale.