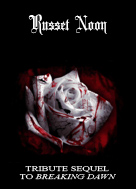 Lori Jareo has finally been unseated as the dumbest fanficcer ever. Some idiot has sent out a press release touting the fall release of her self-published, fanfiction sequel to Stephenie Meyer's TWILIGHT:
This September 2009, a new controversial book hits stores. It is called Russet Noon and it is a tribute sequel to the Twilight Saga. Written by Gothic webmistress and author LadySybilla, Russet Noon is an unofficial continuation to the last book in the Twilight series, Breaking Dawn. Russet Noon is told from Jacob Black's perspective and it explores the questions left unanswered at the end of the last installment in the Twilight Saga.
This delusional fanficcer doesn't care that she is violating Stephenie Meyer's copyright because she doesn't think Meyer has one. Honest.
We'd like to thank all the buyers who pre-ordered Russet Noon. The promotional offer to purchase the novel early is now over and will resume in August 2009. Please contact our sales department to find out more about the release of Russet Noon this September 2009. Beware of half-truth accusations and find out about the actual facts on copyright laws.
When fictional characters become such an intricate part of the popular psyche, as is the case with the Twilight Saga, legal boundaries become blurred, and copyright laws become increasingly difficult to define. This is especially the case when actual cities like Forks and Volterra are used as the novel's settings. Such settings are not copyrightable, as they are considered public domain. Similarly, the Quileute Nation is also not copyrightable, and neither are vampire or werewolf legends. Copyright laws protect writers from unauthorized reproductions of their work, but such reproductions only include verbatim copying. Characters are only copyrightable if their creator draws them or hires an artist to draw them. Stephenie Meyer herself borrowed a great deal from previous works dealing with these mythologies.
Russet Noon is an original story inspired not only by the Twilight Saga, but also by many classic Gothic novels from the Romantic and Victorian Periods of Literature. If anything, the publication of Russet Noon will only strengthen the popularity of the Twilight franchise, since it will serve to further establish its already legendary status.
UPDATE 3-26-09
:  Ebay has pulled
Russet Noon
off their site, prompting the author to issue 
another press release
:
Author Lady Sybilla met with her publishing partners at AV Paranormal today to discuss the fate of her upcoming novel Russet Noon. One of the main issues discussed at the meeting was the hate campaign that some message boards and forums have instigated […]As for the September release of Russet Noon, the AV Paranormal team is considering one of two options. Either the novel will be published in weekly installments on the website for free, or the plug will be pulled on the project altogether. The final decision will be announced in early or mid April. Only one thing is for sure at this point: No more Russet Noon on eBay. Let the detractors have their victory on this one.
But, regardless of what the final outcome may be, everyone who preordered a copy of Russet Noon will receive a full refund.
It should be noted that the "AV Paranormal team" behind Russet Noon is the author, Ms. Potato Head herself.