There are three actors that the networks continually cast as TV series leads — despite the fact that the shows these guys star in consistently bomb. I'm talking, of course, about Steven Eckholdt, Christopher Gorham, and Eric Balfour (the list used to include Jason Gedrick and Ivan Sergei, but it seems the networks have finally wised up to them).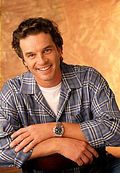 Eckholdt has just been cast as one of the stars of the CBS pilot SPLIT DECISION despite a string of bombs like HALF & HALF, MY BIG FAT GREEK LIFE, GRAPEVINE, and IT'S LIKE YOU KNOW. He's apparently the kiss-of-death for any series…but the networks keep going back to him again and again. What is it about him that makes him so darn castable?


Gorham's CBS sitcom OUT OF PRACTICE has just been shelved…making this his fourth flop series in a row, following MEDICAL INVESTIGATION, JAKE 2.0, and ODYSSEY 5. What do you want to bet he'll show up in yet another series next season? Networks keep betting on him…and losing. So why do they continue?


Balfour is currently one of the stars of the ratings-challenged CONVICTION, but his past series flops include SEX LIES AND SECRETS, HAWAII, and VERITAS. Casting directors obviously fell in love with him for his guest-starring role on SIX FEET UNDER, but does that make him a series lead? So far, the evidence seems to be NO.
What is it, exactly, that casting directors see in these guys? And how
much longer will they keeping getting starring roles in pilots before someone decides that they are never going to be the next George Clooney… or even Robert Urich?