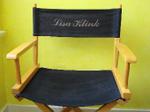 Writer/producer Lisa Klink has launched a new blog about breaking into television and how to stay in once you've done it:
There are already plenty of books, websites and blogs about TV writing. So why read this particular blog? If you're like I was when I was trying to break into TV, you're an advice junkie, seeking as much guidance as possible from as many sources as you can. I'm hoping you'll find it useful to hear from someone who's currently working in the business – not at the top, not at the very beginning, but somewhere in the middle of her career.
It doesn't matter where you are in the business, Lisa's blog is sure to be a fun and fascinating read.