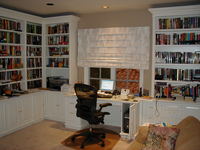 One of my favorite little coffee table book is Jill Krementz's THE WRITER'S DESK, which is filled with photos of authors at work in their offices. It's fascinating and reveals a lot about each author's personality. John Updike wrote in his introduction:
I look at these photographs with a prurient interest, the way that I might look at the beds of notorious courtesans. Except that the beds would tell me less than the desks do. Here, the intimacy of the literary act is caught in flagrante delicto: at these desks characters are spawned, plots are spun, imaginative distances are spanned.
Today, novelist Brenda Coulter posted pictures on her blog of where she does her writing, so I thought I'd follow her example and share with you where I do mine. This is my home office. It overlooks our front yard and is adjacent to my daughter's bedroom. What you don't see in this picture are more bookshelves, a TV set/DVD/VCR set-up and a walk-in closet full of books, DVDs, CDs, videos and office supplies. There's also the original artist's painting for the unpublished, fourth .357 VIGILANTE book on my wall.
To avoid throwing out my back, I also do a lot of writing laying on top of my bed, using my laptop, with my legs elevated on a couch cushion.
I showed you mine so now you show me yours. Think of it as a photo "meme." All of you authors and screenwriters out there with blogs, please post pictures of your writing spaces…and provide linkbacks to this post so we can see them (or offer a link to those posts in the comments below).