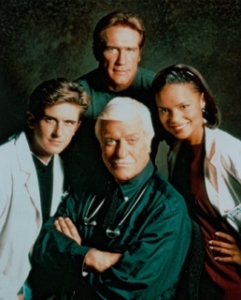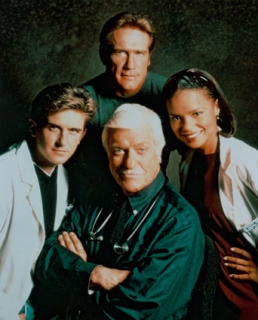 I just learned that Ernest Kinoy. one of the most honored writers in TV history, passed away this week. I was fortunate enough to work with him on two episodes of DIAGNOSIS MURDER.
Dick Van Dyke really wanted us to do an "important" episode of DIAGNOSIS MURDER and felt we should get a "major" writer to do it (I suppose we could have been offended by that…the implication that we were doing mediocre episodes and were mediocre writers, but we chose not to take it that way). William Rabkin and I, who were the show runners at the time, were glad to do it. We saw it s a chance to not only work with a writer we admired, but also to get some critical attention. So we decided to aim high, to find an acclaimed, award-winning writer from the "golden age" that Dick would immediately recognize and respect…but that would be an honor for us to work with as well. Whoever we chose also had to be a writer with episodic experience, someone who wouldn't have a problem working with continuing characters and delivering a story that worked within our franchise. That narrowed the field a bit. Our first pick was Ernest Kinoy but, to be honest, we thought he'd turn us down flat. After all, this was the guy who wrote Skokie, Roots, Murrow and  Victory at Entebbe and classic episodes of such dramas as The Defenders, Naked City, Route 66 and Playhouse 90. 
So we gave him a call…and to our astonishment, he was genuinely interested. We sent him some episodes of our show, as well as some issue-oriented story areas that we were kicking around. He immediately jumped on a notion we had about HMOs…insurance plans that require patients to use specific hospitals and doctors and that leaves life-changing medical decisions in the hands of bureaucrats who are more concerned with the bottom line than patient health.
Kinoy's only hesitation was that it had been decades since he'd written an episodic teleplay and he wasn't sure if he'd be able to pull it off.  He had no reason to worry. The guy was pro…one of the greats of our business.
He delivered a powerful story and a terrific script, entitled First Do No Harm, that stood out as the only episode of the show that didn't have a murder. Yes, someone died, and Dr. Sloan investigates the death, but the perpetrator was a system, not an individual. The script captured the voices of our characters…but it was Kinoy's voice that really came through. His dialogue had a unique cadence, one that Dick embraced. It was a real thrill for us, professionally and personally, to work with him, although it was long distance, by phone and fax.
We liked the experience so much that we invited him back to do a second episode the following season…another issue-based story, this one about assisted suicide…and it gave us the chance, as an added bonus, to reunite Dick with Kathleen Quinlan, his co-star in  the film The Runner Stumbles, his most dramatic role. Dick relished the part and we relished working with such a gifted writer. It was the last episode of season 6, the final episode that Bill and I produced of the series, and it was a great way to go out.
The two episodes ended up being Kinoy's last, produced credits. I hope he was as proud of the episodes as I am.