While Victor Gischler and my brother Tod squabble over who
came up with The World's Worst Interview feature, and who, indeed, does it the worst, I'm going to buck the trend by offering a serious Q&A.
Chris Abbott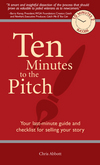 is a veteran TV writer/producer ("Magnum PI," "BL Stryker," etc.) and followed Bill & I as executive producer of DIAGNOSIS MURDER. She's written a wonderful and entertaining new book called TEN MINUTES TO THE PITCH that's full of great advice and memorable
anecdotes. If that wasn't reason enough to buy it, all the proceeds benefit the Writers Guild Foundation for its literacy library programs.
I'll be posting a Q&A with her here in a few days. In the mean time, she will be signing her book at the Barnes & Noble at the Grove on April 13th at 7:30pm. Joining her will be fellow writers Charlie Hauck (Frasier) and Eric Tuchman (Early Edition). During the signing, several lucky attendees will have the opportunity to pitch and re-pitch their own ideas to the trio of writers/producers.