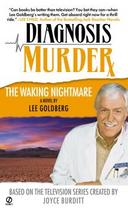 My new DIAGNOSIS MURDER novel, "The Waking Nightmare," comes out on Feb. 1. Rarely has a title been more appropriate for a book… at least for the writer. I wasn't even half-way through writing it when I had an accident and broke both of my arms. In order to meet my deadline, I ended up having to "write" the rest of the book using dictation software. I later cleaned up the prose by hand when I got the cast off my left arm and was able to hunt-and-peck on the keyboard again. Even so, my friends and family tell me it's better than the three DIAGNOSIS MURDER novels that preceded it… so go figure.
Here are some of the nice things other authors had to say about the book in their cover blurbs…
"Can books be better than television? You bet they can — when Lee Goldberg's writing them. Get aboard now for a thrill ride!" LEE CHILD
"Even if you never watched the TV show, read these mysteries! Sly humor, endearing characters, tricky plots–Lee Goldberg's smart writing is what akes these terrific Diagnosis Murder books something to tell all your friends about," JERRILYN FARMER
"The Diagnosis Murder novels are great reads. Intricate plots and engaging characters combined with Lee
Goldberg's trademark humor make for page-turning entertainment." BARBARA SERANELLA
"A fast-paced, tightly constructed mystery that's even better than the TV show. You'll read this in a great big, gulp!" GREGG HURWITZ
I hope you enjoy the book!