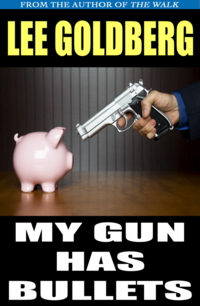 This was another record month for my Kindle sales. Sales were up across the board — in March, I sold 1360 books, in April I sold 1798, and this month I sold 1919. I earned $1415 in April and this month I earned $1543.
THE WALK continues to be my bestselling title. I sold 629 copies in April and 720 this month. 
THE MAN WITH THE  IRON-ON BADGE is a distant second, with 234 copies sold, exactly the same number as last month. How bizarre is that? 
GUILTY, one of my re-branded VIGILANTE novels, moved up to #3 with 184 copies sold compared to 125 last month. 
There was one bit of troubling news…MY GUN HAS BULLETS went from selling 264 copies last month to 166 this month… I have no idea why sales plunged by 100 copies. That's a dramatic drop. I may need to try a new cover and see if that will stop the slide.
This will be the last month of Kindle sales under the old royalty system. Starting July 1, my royalties will go from 35% to 70% of each sale. I can't wait.