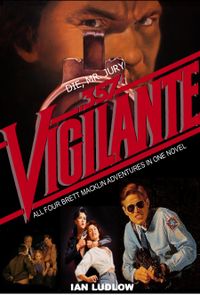 All of my out-of-print .357 VIGILANTE novels, including the never-before-published fourth novel KILLSTORM, have been compiled into one Kindle edition — .357 VIGILANTE: DIE, MR. JURY. 
This is the complete saga of Brett Macklin, a one-man army fighting a war on terror on the streets of Los Angeles in the mid-1980s…
.357 VIGILANTE #1
.357 VIGILANTE #2: MAKE THEM PAY
.357 VIGILANTE #3: WHITE WASH
.357 VIGILANTE #4: KILLSTORM
"As stunning as the report of a .357 Magnum, a dynamic premiere effort […] The Best New Paperback Series of the year!" West Coast Review of Books, 1985
You can also find the compilation on Smashwords and Scribd in multiple e-formats.