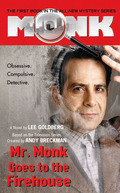 Today my author's copies of MR. MONK GOES TO THE FIRE HOUSE arrived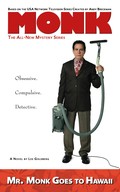 on my doorstep. I still get a thrill every time I see one of my books for the
first time…ah, that new book smell. I love it. The book includes a teaser excerpt from MR. MONK GOES TO HAWAII, which comes out in July and has my name so small on the cover that you'll need a magnifying glass to spot it. Coincidentally, today I also finished writing the outline for MR. MONK AND THE BLUE FLU, the third book in the series.
One of the things I've discovered with these books is how hard it is to be funny in an outline…unless you go into tremendous detail, include sample dialogue, and practically write the entire scene, which I am unwilling to do. So the outlines come across rather flat. I have to trust that everyone who has to read the outline and approve it will see the potential for comedy within the situations I've set up. The nice thing is I have two MONK books behind me already, so they know I will come through on the humor even if the outline isn't a laugh fest.
Mostly what I do on the MONK outlines is get across broad stroke of the plot, leaving out the specific clues and jokes — knowing I will come up with them as I write. The finished book inevitably differs from the outline, but the basic spine of the story always remains the same.
I hope to start writing MR. MONK AND THE BLUE FLU around the first week of January to make my mid-March deadline…and then I start work on DIAGNOSIS MURDER #8, though I have no idea what that one will be about yet.