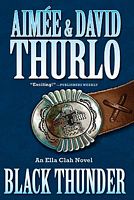 Several years ago, Bill Rabkin and I had the pleasure of adapting Aimee & David Thurlo's terrific Ella Clah novels into a one-hour pilot for CBS. We loved that script, but the network passed us over in favor of  Queens Supreme, which was cancelled after just three episodes.  
But Ella Clah has continued to enjoy a long, healthy run in print. And now she's back in her 17th novel, BLACK THUNDER. Here's what Publishers Weekly had to say about it:
In the Thurlos' satisfying 17th novel featuring Navajo policewoman Ella Clah (after 2010's Never-Ending-Snake), a remote area near a steep-sided outcrop called Hogback becomes a murder scene with the accidental discovery of a buried body with two bullet holes in the skull. More grave sites in the same area, including one just outside tribal boundaries, make it a multijurisdictional investigation bringing in San Juan County (N.Mex.) sheriff Paul Taylor and FBI agent Dwayne Blalock. Tracking the victims, some dead for several years, complicates the investigation. An attempt to get rid of a possible witness, a young boy playing near Hogback, heats the action. Meanwhile, Ella must deal with the needs of her teenage daughter, Dawn; mother, Rose Destea; and romantic interest, Rev. Ford Tome. Navajos known as the Fierce Ones threaten to worsen the situation with vigilante justice in this insightful portrait of a native culture still evolving between tradition and modernity. 
 The Thurlos are among the most prolific authors I know — I think they're juggling three book series now — and they always deliver a great read.  Do yourself a favor and grab this book!