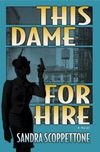 A while back, author Sandra Scoppettone blogged about how the back cover of her THIS DAME FOR HIRE galley promised booksellers all kinds of advertising and promotion to support the book… which never happened. Why? Because they were lies and publishers assume booksellers won't notice. Her editor even copped to it:
He said he knows it's a problem and he's talked about it at meetings. Not
just my book, but the whole process. He's even said, "Why can't we be honest?"
I'm surprised he wasn't fired for that.
I'm surprised they think booksellers are that stupid.