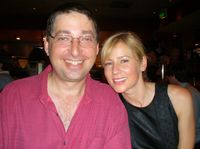 Mr. Monk Gets Even, my 15th MONK novel, was published today. The series of books will continue, with my friend Hy Conrad picking up where I left off, but this is the end for me and my long, wonderful, association
with Adrian Monk.
It began when "Monk"
creator Andy Breckman hired me and my then-TV writing partner William Rabkin to
write an episode of the TV series entitled "Mr. Monk Goes to Mexico," which
would end up being the first of three episodes we wrote for the show.
At the time, Bill
and I were about to begin writing & producing the Lifetime TV series
"Missing" and I was deep into writing the "Diagnosis Murder" novels, based on
the TV series of the same name that we'd also written & produced. When Andy
was approached about writing "Monk" novels, he passed on the opportunity and
recommended me for it instead.
I took the job,
which was an insane thing to do, since it would mean writing a new book every
ninety days, alternating between "Monk" and "Diagnosis Murder," at night while
also running a TV series during the day. That's how much I loved Monk. I kept
up that brutal pace for two years before ending the "Diagnosis Murder" book
series.
Andy liked my first
"Monk" novel, Mr. Monk Goes to the Firehouse, so much, that he hired Bill and
I to adapt it into an episode of the TV show. The episode, "Mr. Monk Can't See
A Thing," may be the first time in American TV history that a tie-in novel of a
TV show has been adapted into an episode of the series….and by the author of
the book, no less (if it's been done before, we haven't found it. And if it
has, it's obviously a rare occurrence!)
If it wasn't for
Andy's enthusiasm and support, I doubt I would have written so many "Monk"
novels or had so much fun doing them. He gave me his trust and the creative freedom
to make the book series my own, and for that I will always be grateful.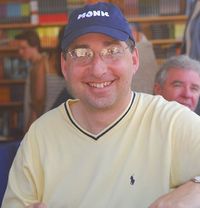 I want to thank
Kerry Donovan, who has been my editor on this series from the very beginning,
my agent Gina Maccoby who put together the deal, and my go-to medical and
forensic expert, Dr D.P. Lyle.  I also
regularly leaned on my "cop buddies" Paul Bishop, Lee Lofland, and Robin
Burcell for their expertise on police matters and I hope I didn't embarrass
them too much with the great liberties I took with the information they gave me.
It's not easy
writing two books a year, particularly if you're doing it part-time while
making your living in television. I can trace my life in these books, like Mr.
Monk in Outer Space and Mr. Monk Goes to Germany, both of which I wrote
while writing, producing and shooting a movie in Berlin and Cologne. They kept
me sane, and out of trouble, while I was far away from home.  
For the most part,
though, the time I spent on these books was time I didn't spend with my family,
particularly on this last one, which required more than a few all-nighters. So,
with deep appreciation, I want to thank my wife Valerie and my daughter Madison
for the sacrifices they made during the last seven years while I pretended to
be a woman assisting an obsessive-compulsive detective on his investigations.
And finally, I want
to thank all of you for being such devoted readers, and for the many emails,
letters, and kind words you've shared with over the years about these books. It
meant a lot to me.