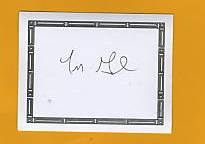 I was on ebay tonight, listing some old textbooks for my daughter. Since I can't pass a search box without typing my own name into it,  I discovered  that there's someone selling cards with my signature on them at five bucks a pop. I can' t imagine who'd want it…especially since it's not my signature. It's not even close, as you can see from the signed copy of MR. MONK IN OUTER SPACE that somebody else is selling.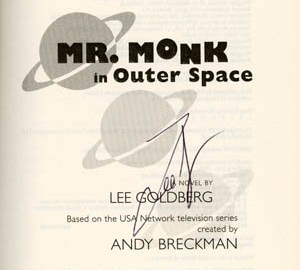 Which makes me wonder…why would anyone waste their time faking my autograph? There can't possibly be any money in that.
UPDATE: The guy has corrected his auction. It turns out the signature is my brother Tod's and that's worth at least five bucks. Maybe as much as  $5.25.