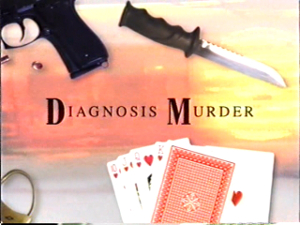 Here's a sampling from the mailbag this week.  I got this note from a Diagnosis Murder fan:
please  put diagnosis murder back on youtube it is one of my favorite tv shows in the wide world and also airwolf is one of my favoritew shows as well  i miss diagnosis murder  very much i watch it almost  all day long  signed  a upset fan of the show    anna
I have nothing to do with any Diagnosis Murder episodes that are posted on YouTube. That said, whoever posted them as violating the copyright and the studio probably had the videos yanked. The good news is that the entire series is coming out on DVD later this summer…and I wrote the liner notes for the seasons that Bill Rabkin and I worked on. More on that soon.
Hi Lee

I just love your Monk Books, and when it was on TV, the show too.

I was noticing in my iTunes there is an author who has written some Mr. Monk books by the name of Hy Conrad. Is this a pen name or is someone actually writing Mr. Monk books and why aren't you?

I have bought all of Mr. Monk books by you either through stores or in my iTunes.

I would appreciate it if you could email me and let me know the reason for the change in authors.
Thank you for your kind words about the book. I decided, after 15 books, that it was time to move on to other things. Hy Conrad is, indeed, a real person and he's picked up where I left off. His first book, Mr. Monk Helps Himself, just came out. You can read more about it here.
Mr. Goldberg,

After reading THE HEIST I have read most of your work and enjoyed it a great deal.

Wondering if we will indeed see Tom Wade …..or even Harvey Mapes again ( the references to Travis McGee and Spenser et al hilarious….and prompted me to reread a couple of old John D McDonalds..great fun)

And why are you not in ibooks?

Thank you for your work!
I will definitely be writing a King City sequel, but I've got the sequel to The Heist to do first! King City was published by Amazon's Thomas & Mercer imprint, and I believe iBookstore refuses to carry Amazon titles. As for my backlist titles (Watch Me Die, The Walk, etc), I have an exclusive agreement with Amazon to publish and sell those books…at least for the time being.