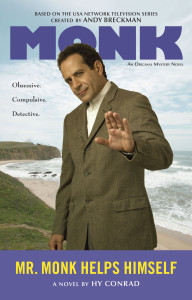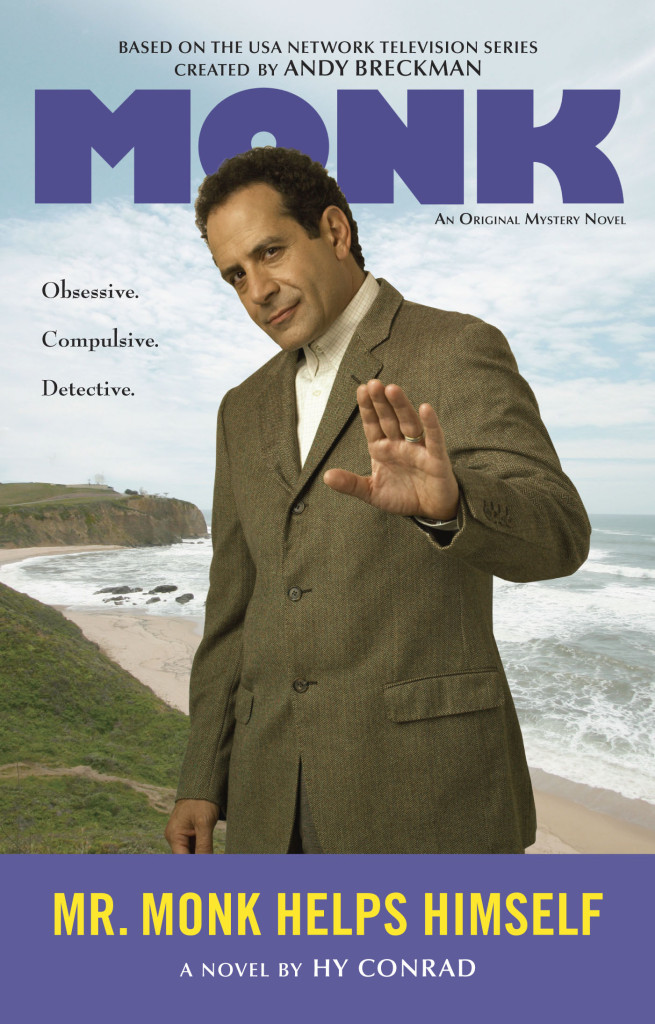 It wasn't easy for me to walk away from writing the Monk books. After 15 novels over seven years, I'd become very attached to the characters. Monk, Natalie and the rest of the gang were always on my mind because I was always writing the books. But I decided it was time for a change (little did I know I'd soon be writing THE HEIST with Janet Evanovich!) And when I let my publisher know I was leaving, they told me they'd like to continue the series without me. They asked if I could recommend someone to pick up where I left off. I strongly recommended my friend Hy Conrad, a writer-producer on MONK and a terrific mystery plotter. He already knew the characters inside-and-out and had written some of the most beloved episodes of the TV series.  I knew the characters would be in very good hands with him, no matter what direction he decided to take the books. And that, of course, was the first, fundamental issue he had to deal with, as he explains in this guest post…
When it was announced I was taking over these novels, Monk fans started contacting me in droves, all asking the same question. Was I going to reboot the series, like a Batman or Spider-Man franchise, or just pick up where Lee Goldberg left off?
 To be honest, I never thought of rebooting. To me, the Monk characters are real. On the show, the other writers and I took Monk and Natalie to a certain place in their lives. Meanwhile, in a parallel universe, Lee continued to expand them, smoothing out little bumps and creating new ones.  I didn't want to mess with that reality.
 In the new books, some things will naturally be different, because Lee and I are naturally different. For example, his Natalie knows a lot about architecture. Mine, not so much. His Monk is more obsessed with numbers and symmetry. Mine is a little more phobic.  I tried to insert some pop references into Natalie's voice.  But the show never did many pop references and it doesn't come naturally to me.
 In many ways, Lee strengthened the Monk franchise. For one thing, he knows San Francisco and the wonderful character of the town. We wrote the show in Summit, New Jersey, and, while we did have a San Francisco map, it was pinned on the far wall and no one wandered over there very often. I'll try to do improve on our atmospheric quality, I promise.
 The same goes for forensics accuracy. Lee had called on a cadre of experts to make sure his details were right. Despite our own police consultant, the Monk writers tried not to burden ourselves with too many facts. At one point, the production team called to tell us our formula for bomb making was ridiculous. We replied, "Do you really want us broadcasting how to make a bomb?" That shut them up.
The good news is that we were sticklers for logic. We may not have known bomb making, but we insisted that the logic of every story always worked.  For example, when Monk was in a life-threatening predicament in Act Four, which he usually was, we knew we had to send Stottlemeyer in there to save the day.   In a lot of TV shows, the writers never ask, "Well, how did Stottlemeyer know Monk was in trouble?"  We did.  And sometimes it would take us a full day to answer the question.
 The other good news is that I was with the show from beginning to end, for all eight years. I was the mystery guy, while everyone else had come from the world of comedy. Along the way, I think I had some influence on the way Monk talked and interacted. In other words, he wound up a little bit like me, which makes writing for him a pleasure.
When I first told Monk creator/executive producer Andy Breckman that I was doing this, his response was, "Great. You can use some of the Monk stories we never got to do."
Mr. Monk Helps Himself is one of those stories. I brought it into the writers' room during season six. We played around with the idea until it morphed into something totally different—Mr. Monk Joins a Cult, guest-starring Howie Mandel. That's how it happens in a roomful of writers. There are dozens of great plots, half thought through, buzzing around in our collective memory.
 I have to admit it's nice to finally have the last word in what mysteries Monk solves and how he reacts.  I'll try not to abuse the power.