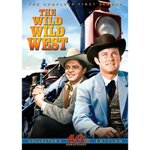 The best producer of boxed sets of TV shows on DVD is Paul Brownstein. No one else comes close. His love of television is obvious in his brilliant work on DVD sets for shows like THE DICK VAN DYKE SHOW, GUNSMOKE and now THE WILD WILD WEST. The prints are terrific, the menus are clever and vibrant, and he goes out of his way to jam-pack his sets with amazing, rare, and informative supplemental material. His sets have all the usual stuff… and far, far more. The GUNSMOKE set, for example, includes behind-the-scenes home movies from Dennis Weaver, appearances from James Arness and Dennis Weaver on THE ED SULLIVAN SHOW, an Amanda Blake interview on the MIKE DOUGLAS SHOW, Emmy Award appearances by the cast, network promos, interviews from The Western Channel, a video of a GUNSMOKE retrospective held at the Museum of Broadcasting, promos, bloopers, and a huge number of audio commentaries… and I'm only scratching the surface of what's offered.
This week, I bought his THE WILD WILD WEST boxed set and, once again, he's done incredible work. The set includes all the usual extras and so much more, like audio tracks from the original scoring sessions for the main title theme with alternate versions and aborted takes (a rare find which is worth the price of the set alone), the original pilot main title sequence, network promos, and audio interviews with the composer, various writers, the studio casting exec, special effects person. It's a TV fan's wet dream.
Some savvy studio should put Paul in charge of ALL their TV boxed sets…because he simply does it better than anybody.