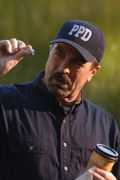 Jesse Stone is back…finally. CBS is airing THIN ICE, the fifth of Tom Selleck's Jesse Stone movies and the first one not adapted from a Robert B. Parker novel, on March 1. The big mystery, though, isn't the one that Stone solves in the movie — it's why it has taken so long for this one to show up on TV. It was shot in August 2007 and has been on the shelf ever since, even though the Jesse Stone movies are consistently strong performers for CBS (and the last one earned Selleck an Emmy nomination). And the network hasn't lost faith in the franchise…they've already ordered and shot NO REMORSE, the sixth movie in the series. So why was THIN ICE on ice for a year-and-a-half? 
I'm just glad it's finally airing. I love the Jesse Stone movies — far more, in fact, than the books that they have been based on. I hope this one is as good as the others. CBS could do a lot worse than making Jesse Stone a weekly series, assuming that Selleck is up for it.
UPDATE 3/2/2009: Just finished watching it. I think it might be the best of the Jesse Stone movies. 
UPDATE 2/27/2008: MaryMcNamara at the Los Angeles Times loved the movie, too.
With a cast that has won its weight in Emmys and Golden Globes, it's not surprising that
"Thin Ice" is filled with great performances; what is surprising is that so many of them are so marvelously small and subtle. This is a slow-moving film, especially in comparison with the often hyperkinetic pacing of today's television, but that's one of its greatest strengths.Like good police work, good storytelling requires time and a eye for detail; "Jesse Stone: Thin Ice" has both.
It's a role that fits star Tom Selleck like a glove. "Thin Ice" is Selleck's fifth Stone movie, and the first not directly adapted from one of Parker's novels, even though several Stone books remain unfilmed. (The eighth book, "Night and Day," came out this week.) Given the richness and cinematic quality of the Stone books, I was nervous about the TV series moving away from the source material, but Selleck so thoroughly embodies Jesse's flinty yet wisecracking personality that "Thin Ice" feels like something Parker might have written, even though he didn't.