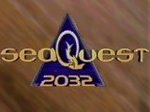 Media critic Herbie J. Pilato, author of books about the TV series KUNG FU and BEWITCHED, does a very good job dissecting what went wrong with SEAQUEST. In short, just about everything:
The changes were manic. Too much to swallow. SeaQuest suffocated in a sea of too
many ideas. Too many DeLouises from one Dom. It reached for whatever might keep
it above water. It's like someone unplugged the cork at the center of the sub.
It sunk. No one paid attention to the simplest, yet most essential answer: they
should have bailed out, as soon as possible.

"SeaQuest will not be remembered as a television classic," Goldberg concludes
" It will be
remembered technically as a ground-breaking show for computer animation, and
creatively as a hugely expensive mistake."