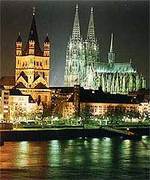 Greetings from Cologne, Germany, where I am holed up in my hotel room this morning, writing a pilot. I'm suffering from the worst jet-lag I've ever had…I think it has something to do with the fact it stays dark here until 8:30 in the morning and gets dark again around 5 pm…and in between, there's not much sunlight. My internal clock just doesn't seem to be adjusting, even after being here nearly 10 days.
I haven't been writing as much as I would like while I've been here. I've been having pre-production meetings at the studio in Cologne and with the network in Munich…and when I get back to my hotel room in the evenings, I'm crippled with fatigue and fighting to stay awake past 8 pm. I'm hoping when I get home I'll rebound quickly from the jet-lag and have a nice, uninterrupted stretch to write so I can work up some momentum (the script is due Jan. 1). That's also why you haven't seen me posting here…I'm using the energy I have on the script. I like what I've written, it's just harder to come by.
I still have Christmas shopping to do…I hope to do a little of it here before I return on Saturday.