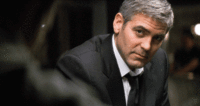 I finally saw MICHAEL CLAYTON…it was my test drive using the Amazon Unbox to rent a movie on my TiVo (a service which I liked). If you haven't seen the movie, you can stop reading now, because I'm going to spoil some things.
I thought George Clooney, Tom Wilkinson and Sydney Pollack were terrific and some of the dialogue really crackled, but the simple plot was inexplicably and needlessly hard to follow at times and there were some logic flaws that pulled me right out of the movie, ultimately ruining it for me.
The bad guys did a slick and professional job of killing Wilkinson's character and making it look like a suicide, thus establishing them as formidable opponents. But then they put a car bomb in Clayton's Mercedes. Why!? Why not stab him in an apparent "mugging gone bad" or run him over as he's crossing the street? Why kill him in a manner that will draw an enormous amount of attention — the exact opposite of what the bad guys wanted? It was stupid and sloppy writing, made worse when Clayton is able to fool them (and apparently the police) into thinking he's dead even though there's no charred corpse in his car… just his wallet and his watch. Did his body get vaporized?
There was also one niggly detail that bugged me, too. At one point they say Clayton was born in 1959. Then, a few scenes later, Clayton says that he's 45. The math just doesn't add up (and the movie clearly takes place in 2007, sine he's driving a brand new SL).
I also don't get how Tilda Swinton got nominated for an Oscar, much less won the thing, based on her small role…