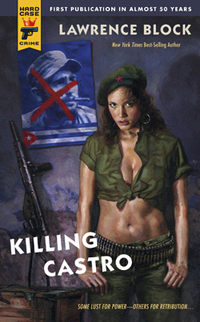 Hard Case Crime is reprinting a long-lost Lawrence Block novel called KILLING CASTRO. It's a book Block wrote under a pseudonym fifty years ago. And if this excerpt doesn't whet your appetite for more, you don't have a pulse:
The taxi, one headlight out and one fender crimped, cut through
downtown Tampa and headed into Ybor City. Turner sat in the back seat
with his eyes half closed. He was a tall, thin ramrod of a man who was
never tense and yet never entirely relaxed. His hair was the color of
damp sand, his eyes steel gray. His lips were thin and he rarely
smiled. He was not smiling now.

The stub of a cigarette burned
between the second and third fingers of his right hand. The fingers
were yellow-brown from the thousands and thousands of cigarettes which
had curled their tar-laden smoke around them. He looked at the
cigarette, raised it to his lips for a final drag. The smoke was
strong. He rolled down the window and flipped the butt into the street.

Night.
The street lights were on in Ybor City, Tampa's Latin quarter. Taverns
winked seductively in red and green neon. Cubans, Puerto Ricans and
Negroes walked the streets, congregated around pool halls and small
bars. Here and there butt-twitching hustlers were rushing the season,
looking to catch an early trick before the competition got stiff.
Turner watched all this through the taxi window, his thin lips not
smiling, not frowning. He had bigger things on his mind than corner
loungers or early-bird whores.

He was thirty-four years old, and he was wanted for murder.
What's amazing about it is that he was so good from the get-go, long before he would achieve all his well-earned honors and accolades.