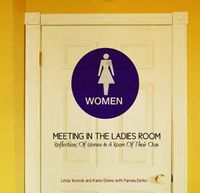 My super-talented and creative sisters Linda Woods and Karen Dinino, authors of the wildly acclaimed, bestselling VISUAL CHRONICLES and JOURNAL REVOLUTION, have just published a new art book, which is sure to please their droves of devoted fans, who seem to idolize "the seesters" (sadly, the brothers, Tod and myself, have no such following). 
The book is called Meeting In The Ladies Room: Reflections Of Women In A Room Of Their Own and its a collaboration of photos and essays by a wide variety of creative women, including Rosie O'Donnell, Jann Arden, Amanda Palmer, Jen Foser and SHeDAISY. Here's the scoop:
What do you see when you look in the mirror?
What do you think about when you are alone?
What's the best ladies room you've ever been in?
Whether you are an idolized celebrity or a struggling single mother, the ladies room is where you create your make believe, and where you face your reality. Join 68 brave women from around the world for an empowering look in the mirror and a meeting in the ladies room.
My sisters' fearless, humorous, no-rules approach to life and art has been featured on THE VIEW, in  magazines and newspapers nationwide, in other people's art books, and at every single one of our family gatherings. They don't go anywhere without their cameras around their necks…not even to go take a pee, as this gorgeous and remarkable book proves.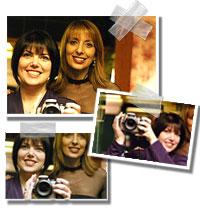 The publisher is offering a special $10 discount off the cover price until December 31st. To get the savings, enter the code below at check-out.

Orders from the US (using US $):   GREATGIFT
Orders from UK (using UK £):   GREATGIFT2
Orders from EU (using EU €):   GREATGIFT3
Orders from AU (using AUD $):   GREATGIFT4