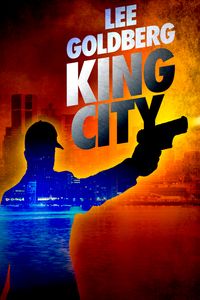 For a while now, the editors at New York publishing companies have been warning authors who are thinking of jumping ship to one of Amazon Publishing's imprints that not only won't their books be in brick-and-mortar stores, but they also won't make nearly as much money. 
"You'll disappear," they say. "Your career will be over. Nobody will be able to find your books anymore."
While it's true that you won't see many Amazon-imprint books at your local Barnes & Noble or at airport bookstores….so what? Ebooks are outselling prints books today. And while your ego may take a hit not seeing your book on a store shelf, your wallet won't. Unless you're an A-lister like Lee Child, Janet Evanovich, James Patterson, or Michael Connelly, etc., you will sell a lot more books and make a lot more money with Amazon than with a "legacy" publisher.
I know many authors, formerly with NY publishers, who are now with one of Amazon's imprints…and earning more than they ever did before. I'm one of them. KING CITY has already made me more money in the last 90 days than my last two MONK novels combined.
But I am not alone. Today Amazon Publishing exec Jeff Belle sent a letter to agents telling them what we Amazon authors already knew…that the imprints are a huge success. He also punctured the big lie, which I have heard repeated many times, that Barry Eisler made a costly mistake walking away from a $500,000, two-book St. Martin's contract in favor of working with Amazon. Belle said, in part:
We are especially focused on increasing the audience for our authors. The Detachment, by Barry Eisler, published last September by Thomas & Mercer, has sold over three times the copies of any of Barry's previous New York Times bestselling books. New York Times bestselling author Connie Brockway joined Montlake Romance as our launch author, and The Other Guy's Bride has also gone on to sell more than three times the copies of her other recent titles. These authors, along with Amazon Publishing, are helping to redefine what it means to be a bestseller. We're extremely proud of the results so far.

We are as determined as ever to make sure that Amazon Publishing authors reach a huge audience. In particular, we will continue to heavily market and promote them to our 180 million customers around the world, through online and offline advertising, our websites, through email, and on millions of Kindle and non-Kindle devices. Based in large part on our long experience as a bookseller, we are confident that this expansive marketing and promotional support will continue to yield strong sales results for our authors.
It's not just the sales that are attractive to authors… it's the talented, friendly and enthusiastic editors, who give authors an enormous say in how their books are packaged and marketed…it's the astonishing effectiveness of their promotional campaigns…and its the far more generous royalties, paid swiftly, and accompanied by clear, easy to understand royalty reports. Amazon Publishing treats authors like partners. And they publish great books.
Is it any wonder Amazon Publishing and their authors are doing so well?